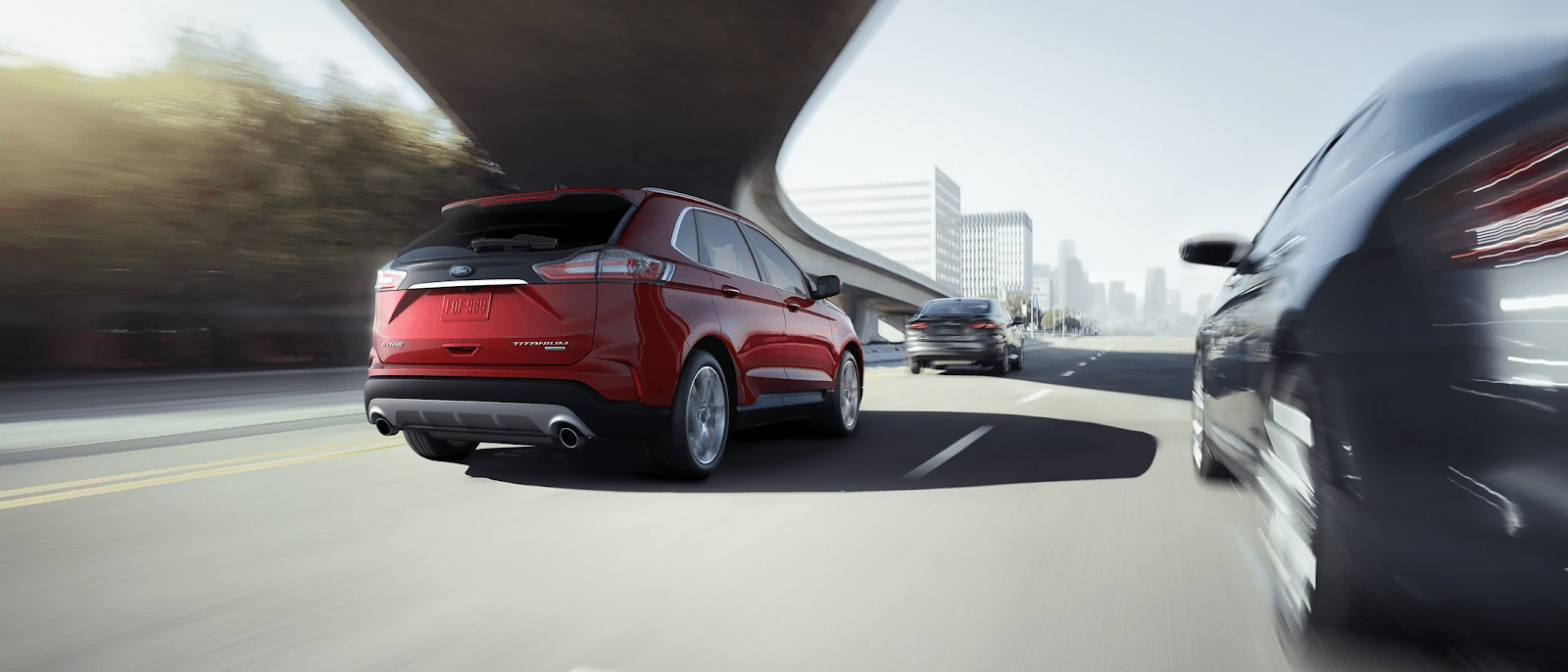 Any time you get behind the wheel, you put yourself and passengers at risk. Even if you are an attentive driver, you cannot control others on the road. Ford Co-Pilot360 is a suite of driver-assist features that work to keep you safer.
At
Dingwall Ford
, we are proud to help the communities of Kenora and Dryden drive more safely with Ford vehicles. Our sales team is knowledgeable and can explain how Co-Pilot360 works in the vehicle of your choice.
Ford Co-Pilot360
Co-Pilot360 is our suite of safety features. This safety package comes standard on most vehicles.
Auto High-Beam Headlamps
Sensors on your vehicle note light conditions and will take care of turning the lights on and off. Your vehicle's lights will even be dimmed when your vehicle senses oncoming traffic. Once the car passes, your high-beams will be turned back on.
Blind Spot Information System (BLIS) with Cross-Traffic Alert
The Blind Spot Information System uses sensors to detect any vehicles you do not see. As you begin to change lanes, an icon will light up in the corresponding side mirror to let you know it is unsafe.
The Cross-Traffic Alert does the same when you are backing up. It can detect if another vehicle is entering your path and will let you know.
Lane Keeping Assist
When driving on the highway, it is easy to lose enough focus to drift towards the edge of your lane. Lane Keep continuously scans your position between the lines and will alert you if you start to deviate from the center. If the alert is triggered enough, a coffee cup icon will let you know it is time to get off the road.
Pre-Collision Assist with Automatic Emergency Braking
Being an attentive driver is vital, but sometimes things are out of your control. Children run into the road or vehicles stop unexpectedly. Even if you are paying attention, your reaction time is not always fast enough.
Pre-Collision Assist detects these potential collisions and gives you a heads-up. If you do not react to the warning in time, automatic emergency braking will engage.
Rearview Camera
Turning around when you go in reverse can be tough on your neck and spine. The rearview camera lets you see what is behind you on the front console display.
The camera provides a wide view range so you can back up safely. The color-coded guidelines let you see if there is anything behind you and how far back it is.
Ford Co-Pilot360 Assist Plus
Co-Pilot360 Assist Plus is a more extensive safety package. It has all the features of Co-Pilot360, plus a few more. It is available on select 2020 Fusion, Edge, and Ranger models.
Adaptive Cruise Control with Stop-and-Go
Cruise control makes long-distance driving much easier. Adaptive Cruise Control takes it one step further. Find a comfortable distance between your vehicle and the vehicle in front of you, then turn on the cruise control. Your vehicle will continuously monitor the space between the vehicles and adjust your speed to keep it.
Your vehicle will even come to a complete stop if the vehicle in front of you does. Once it starts moving, you will too.
Evasive Steering Assist
If a vehicle ahead of you breaks down or is moving too slowly, your vehicle can support your maneuvering. You are still in control, but your vehicle gives you a little extra steering power to get around it.
Lane Centering
While your hands are on the wheel, your vehicle will make minor steering adjustments to keep you centered in your lane.
Voice-Activated Navigation System
You can use your voice to activate the navigation system so your eyes can stay focused on the road and your hands on the wheel.
Even More Safety Features
While Co-Pilot360 is the standard suite of safety features, Ford does not stop there. Select models come with additional driver-assist technologies. Available features include:
Enhanced Active Park Assist
Co-Pilot360 and You
Routine driving can become too routine. It is easy to go into auto-pilot mode and think about our list of weekend chores rather than keeping all our focus on the road. Distractions can happen, and when they do, Co-Pilot360 is there to help keep those distractions from causing a disaster.
Whether you are looking for a commuter vehicle, a family car, or something for weekend adventures, you can rest assured that your vehicle is working for you. Here at
Dingwall Ford
, we are also here for you. You can view our inventory online, then reach out to us with our chat feature, by email, phone, or in person.