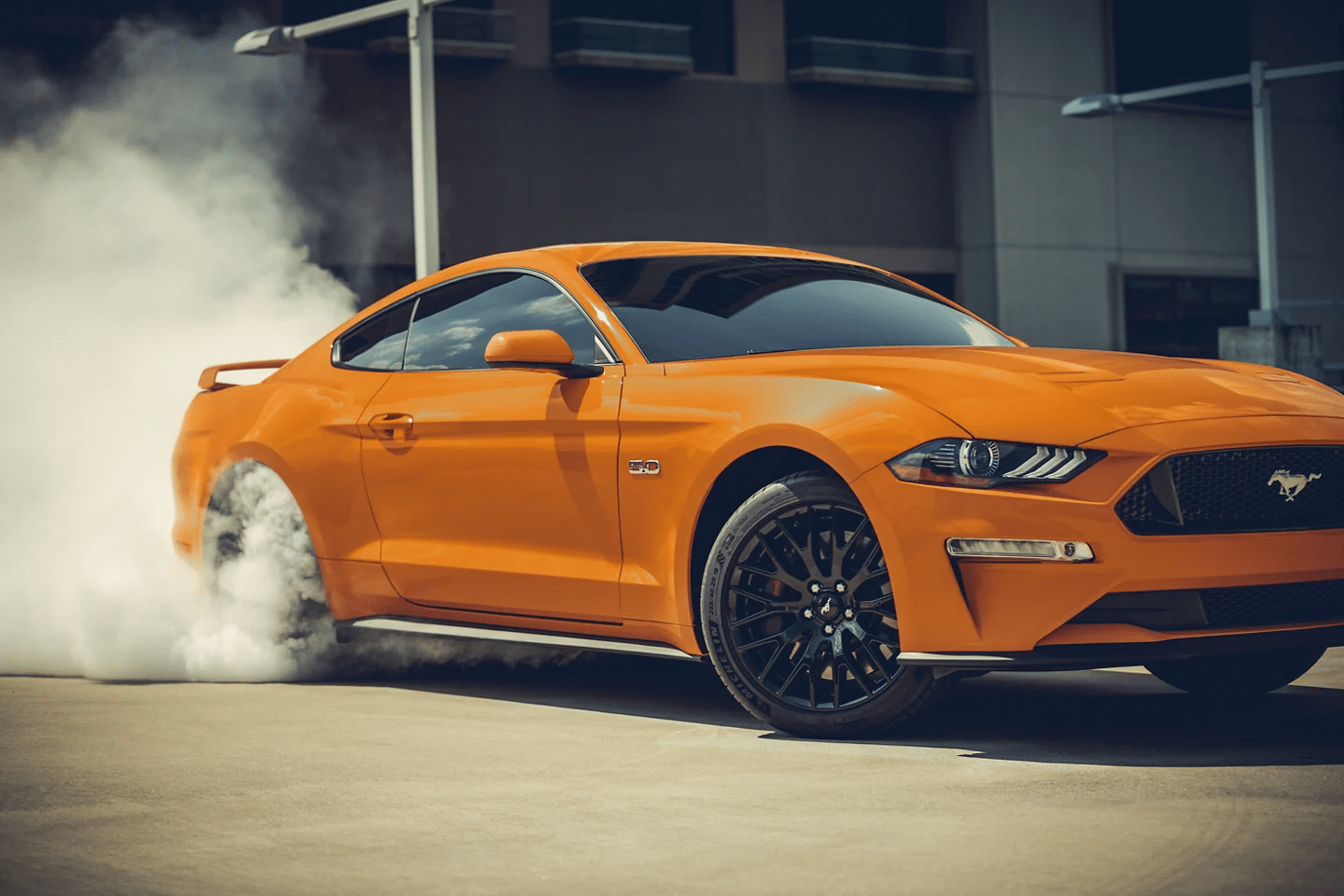 If you're ready for summer fun, hop inside the Mustang. With tremendous performance, fun features, and safety innovations that make you feel safe no matter where your journey takes you, the Mustang is calling your name!
Performance
Choose the model and the engine that works for your lifestyle. If you're going to be showing off at the track, we've got you covered. If you just want the power and performance of an icon but don't necessarily need the machine to lift you off the pavement, we can handle that, too. Ask one of our sales team members to walk you through all your options.
New for 2021, the Mach 1 and Mach 1 Premium stand at the very top of 5.0L performance. The customizable Mach 1 lives up to its reputation for handling and maneuvering its way out in front of the competition.
The unique Mach 1 Handling Package is a standout. Whether you're hitting the straights at 168 mph max speed or rounding the bends, this model is made for the track! Put your spin on the customizable model and feel the power for yourself.
There is no denying the power of the Shelby GT500. The supercharged 5.2L V8 engine and dual-clutch TREMEC 7-speed transmission set up this model for unprecedented power and performance. Strap in tight because you'll hit speeds of 186 mph in this model - the fastest street-legal Mustang ever.
Our EcoBoost engine packs a punch, too. The 2.3L high-performance package means you get a slightly larger twin-scroll turbo compressor, fresh engine calibration, and a larger radiator so that you're sitting behind 332 horsepower and 350 pounds-foot of torque. You'll always be first off the light!
You'll love launch control. It integrates the brakes, traction, and powertrain to make sure you start fast and lock up the front brakes while releasing the rear brakes. For - you guessed it - a quick tire warm-up or good old-fashioned smoking!
Features
You don't need a stereo when you have a Mustang that produces this much bass on its own. The available class-exclusive active valve performance exhaust lets you control the volume. Leaving home early in the morning? Set it for Quiet Start. Heading out for your long-anticipated vacation? Select the Sport setting. Other modes available are Normal and Track.
We know you need to stay connected, no matter where you're going or how fast you're trying to get there. Available SYNC 3 with a voice-activated touchscreen with pinch-and-zoom capability provides the smartphone connectivity you need to stay in touch with all your contacts, play your playlists, and use your favorite apps.
Opt for our five-year subscription to SiriusXM Traffic and Travel Link that makes information on traffic delays, alternative routes, weather updates, up-to-the-minute sports scores, and news alerts accessible anytime you need them.
Ask your sales team member about Track Apps, which adds to your driving experience by allowing you to view and utilize several performance metrics, like lateral and longitudinal g-forces, acceleration and lap times, plus automatic and countdown starts, on your instrument panel.
Safety
Your safety is always our priority. Whether you're headed out to the track or across town for groceries, we are working to make sure you get where you're going and back again safely. With Ford Co-Pilot360 Technologies offered standard, you can count on an extra set of "eyes'' keeping watch over those things you may not always see.
Safety features include:
Blind Spot Information System. We alert you when a vehicle enters your blind spot.
Lane-Keeping System. If you leave your lane, we warn you to refocus and recenter.
Automatic High-Beam Headlamps. Headlamps automatically brighten and dim, dependent on ambient light readings.
Pre-Collision Assist with Automatic Emergency Braking. When traffic slows ahead, we warn you to slow down too; if you can't, we activate Emergency Braking to slow down for you.
We don't stop innovating. We just keep researching and developing new ways to make you feel confident behind the wheel.
About Us
Our team at Dingwall Ford understands the siren's call of summer. If you're longing to feel the rush of speed and adrenaline, if you need a little power and want to feel in charge, if your heart needs to beat just a little faster - we think you need a Ford Mustang.