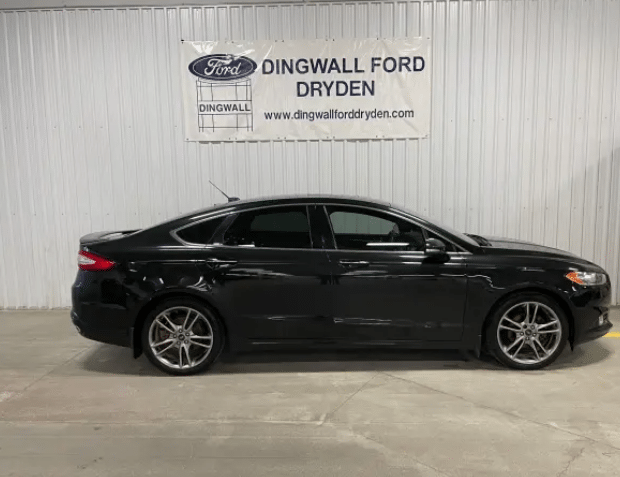 The working-class mining town of Dryden, Ontario, is known for a few things. It is a city founded on agriculture that has also been a hub for the pulp and paper industry. Dryden is a hard-working town capable of many things. These are all things Dingwall Ford Dryden understands, which is why we want to put you in a 2021 Ford Fusion. This stylish and sleek car comes with technology that enhances your driving experience. We recommend trying one out today.
What Kind of Power Does the Ford Fusion Have?
The Ford Fusion has a high-quality, powerful, well-performing engine. It features a 2.5L 4-cylinder engine that boasts 175 horsepower, giving you a good amount of gas mileage to get wherever you need to go.
The Fusion features a highway MPG of 31, a city MPG of 21, and a combined MPG of 24, so it's easy to go from point A to point B with few fill-ups in between. This vehicle is equipped with a 6-speed automatic transmission and front-wheel drive, allowing you to keep up with everyone else while providing a nice, smooth drive.
Let's Take a Look Inside
There are a variety of interior features on the 2021 Ford Fusion that provide for a quality driving experience. It seats up to five people at once with bucket seats in front and folding seats in the back. Not only can you fit your whole family, but you also have plenty of cargo room for hauling larger items.
The Fusion also has your music options covered. It features an AM/FM radio and Bluetooth connectivity, so you can get your music from anywhere and from any device you'd like. It also has steering-wheel-mounted audio controls and four speakers throughout the vehicle for your enjoyment. The Hybrid model has additional audio features, including an XM radio and nine speakers throughout the cabin.
This vehicle also features AppLink for full voice control over phone calls, music, audiobooks, and navigation. Now it's easy to stay focused on the road ahead while keeping yourself entertained and able to communicate with friends and family.
Features Designed to Keep You Safe
The 2021 Ford Fusion has many features designed to keep your family safe while on the road. Fully automatic headlights and automatic high beams allow you to see where you're going, even on the darkest roads.
The Ford CoPilot360 system features a blind-spot warning system, rear collision detection, a lane-keeping assist, and forward-collision Automatic Emergency Braking, all of which help prevent you from being in accidents. This, combined with airbags in the front, sides, knee, and overhead, keeps you and your family safe from injury.
Also included are a child safety latch, anti-theft system, and a perimeter alarm, adding additional security to your vehicle at all times.
Features That Add Convenience
Several features in the 2021 Ford Fusion add comfort and convenience to your ride. Power windows allow fresh air, keyless entry, and push-button start for ease of use. There are also vanity mirrors on both the driver's and passenger's side, air conditioning for when the heat is unbearable, an auto-dimming rearview mirror so you can see better, an overhead console for ease of access to features, and a telescopic steering wheel for better control.
Other Features
There are a handful of other great features, including:
Rain-sensing wipers that start as soon as they detect moisture on the windshield

Power-operated doors

A rear window defroster that helps on those cold Dryden days

A rear cargo trunk for a ton of storage

Front reading lights for when it's too dark out to see what you're reading
Come Out to Dingwall Ford Dryden and Try the 2021 Ford Fusion
The 2021 Ford Fusion is a sedan that the whole family can enjoy. This four-door sedan has an excellent feature set that provides ease of use and convenience. If you're looking for a car that provides a smooth ride with features to make your drive easier, we recommend taking the 2021 Ford Fusion for a spin. If you're in the market for a new car, come out to Dingwall Ford Dryden in Dryden, ON, where our sales representatives will send you home happily in a 2021 Ford Fusion. Our dealership is located at 303 Government St, Dryden, ON P8N 2P4, Canada.