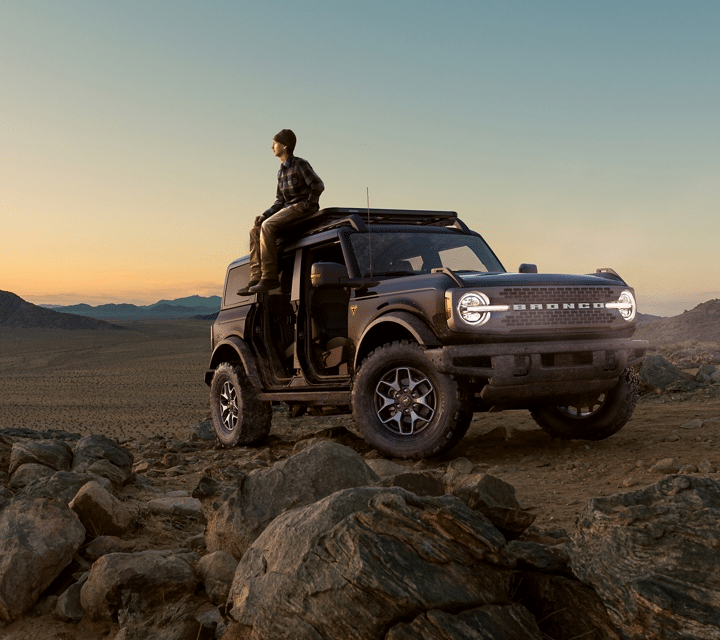 The wait is almost over. The Ford Bronco has been on hiatus for 25 years. This spring, it's back and better than ever with two-door and four-door models, as well as the all-new Bronco Sport.
If you are dreaming of the new Ford Bronco, it is time to act. Reservations placed now will be turned into true orders this December.
Dingwall Ford
is your hub for all things Bronco.
Bronco Series Models
Whatever your adventure style is, there is a Bronco that can handle it. From rambling up a mountainside to scaling sandy beach dunes, you can find the engine, tires, and interior to match your call of the wild. The classic Bronco has been reimagined and is available in six unique models.
Base: $28,500 - 2-Door, Seats 4, 7-Speed Manual Transmission, 270 hp. Strip off all the ribbons and bows, and you have pure power. The Base is nothing but the essentials and is designed for those with the outdoors in their soul.
Big Bend: $33,385 - 2-Door, Seats 4, 7-Speed Manual Transmission, 270 hp. If you love the wind in your hair and the hint of pine trees in the breeze, but you also enjoy the comforts of life, the Big Bend is for you. With great power and ability, this Bronco also adds in things to make your outdoor exploration a little less rugged for the passengers.
Black Diamond: $36,050 - 2-Door, Seats 4, 7-Speed Manual Transmission, 270 hp. For the outdoor enthusiast with guts, the Black Diamond will take you where you want to go. No rock, log, or rough terrain can stand in your way.
Outer Banks: $48,875 - 2-Door, Seats 4, 10-Speed Automatic Transmission, 270 hp. The Outer Banks is where tough meets style. This Bronco will be the envy of everyone in your path. With comfort and class on the inside and sleek details on the outside, this is the Bronco to show off in.
Badlands: $42,095 - 2-Door, Seats 4, 7-Speed Manual Transmission, 270 hp. If you like to take things to the extreme, the Badlands will get you there. What the Black Diamond can do, the Badlands can do better. More rugged, more extreme, more wild!
Wildtrak: $48,875 - 2-Door, Seats 4, 10-Speed Automatic Transmission, 310 hp. When you have a need for speed, the WildTrak will satisfy. Tested in legendary terrain, this Bronco has proven itself. Speed and power combined make this vehicle perfect for more than just sightseeing.
Picking the model is just the start. There are accessories, features, tires, and interiors to choose from. You can customize your Bronco to a T.
The All-New Bronco Sport
Although both models have Bronco in the name, the Bronco Sport is in a league of its own. The two vehicles are built with different chassis, suspension, engines, and more. The Bronco Sport comes with four models of its own.
The Bronco Sport isn't quite as off-road capable or intense as the hardier Bronco, but it certainly fills a niche.
Feel the Wind
Driving through the outdoors while enclosed in a SUV is one thing. With the Bronco, you are outside. Roof options include:
Whatever you pick, you can take it off, along with the doors. With everything removed, no other vehicle can even compare.
Best-in-Class
Built with the heart of the classic Bronco, the new 2021 Bronco is better than the rest. With best-in-class departure, breakover, clearance, and water fording, you and your Bronco can charge on ahead.
43.2 degree approach angle
29 degree breakover angle
37.2 degree departure angle
33.5 inches of water fording capability
Multiple Modes
Goes Over Any Type of Terrain (G.O.A.T.) modes let you tell your Bronco what you're driving on. There are eight G.O.A.T. modes in total:
Tell your Bronco what you're driving on, and it will help keep you trucking along with ease.
High Tech
While it was on break, the Bronco got some major tech upgrades. You are no longer driving on your own; your Bronco is your copilot there to help you out.
Trail Control: Your Bronco manages the throttle and braking on individual wheels while maintaining its speed.
Trail Turn Assist: Your Bronco can make sharper turns at low speed, making navigation smooth and easy.
Trail 1-Pedal Drive: Your Bronco goes into a low-speed crawl. No need to brake - just lift your foot off the accelerator.
Reserve Your Bronco
Make a reservation for your 2021 Bronco today, and this December, get one step closer by placing your Bronco order with
Dingwall Ford
.